Thursday 6th February 2020, 7.30pm at The Stable Weston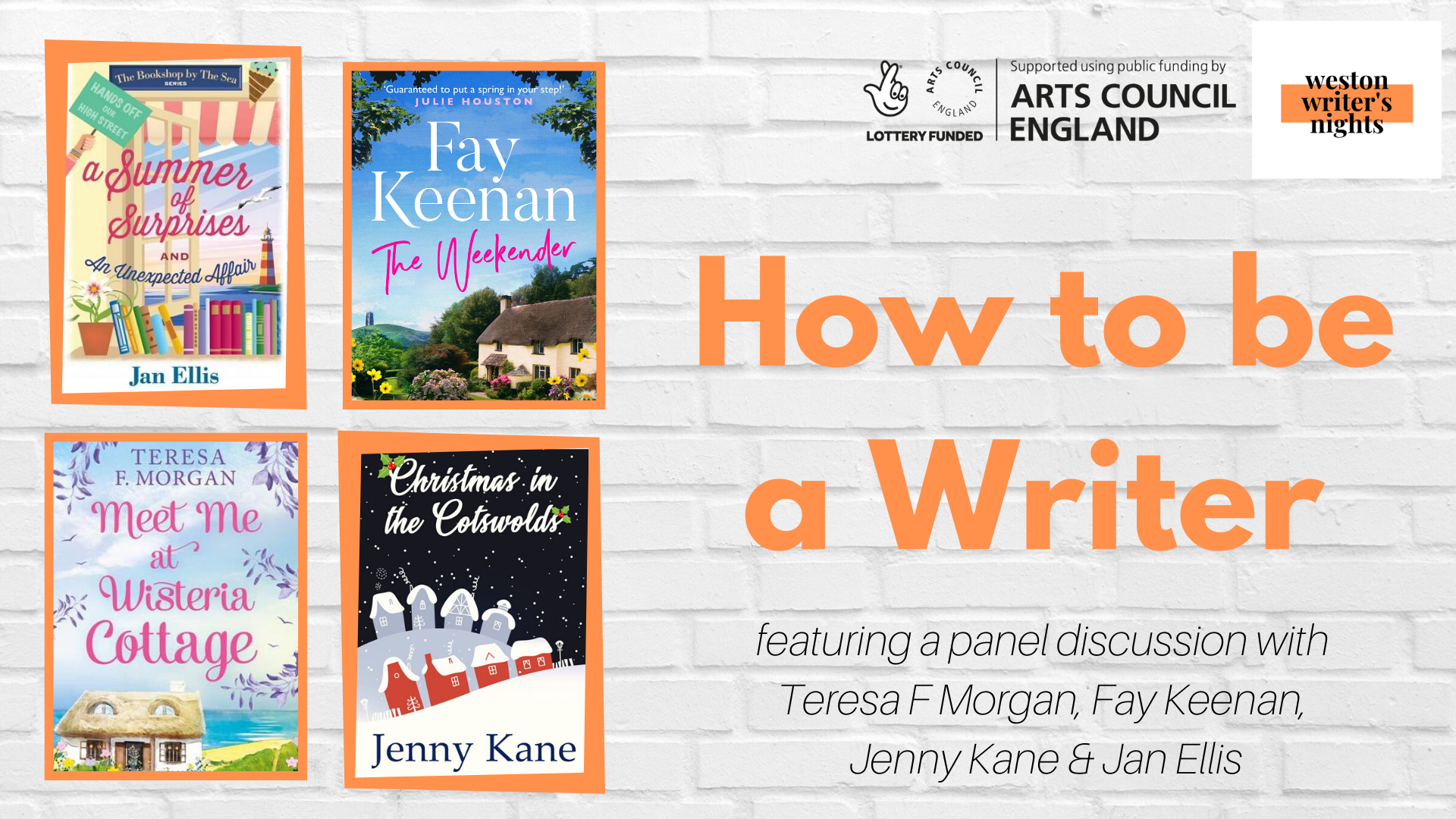 What does it mean to be a writer nowadays, when a lot of us create stories by typing on a laptop, rather than actually putting pen to paper? Is it possible to make a career out of writing? Is the title 'writer' strictly confined to the likes of Charles Dickens and J.K Rowling?
We're back with our second Weston Writer's Night, and this time it's all about the writing process. From coming up with ideas, to carving out time to write, all the way through to getting an agent and publishing your work, our panel of accomplished novelists will share their advice to help you improve your work.
Between them, Teresa F Morgan, Fay Keenan, Jenny Kane and Jan Ellis have a wealth of writing experience, as well as a bunch of tips for making writing a bigger part of your life.
And, as if that wasn't enough, there will also be a showcase of local writers (get in touch if you'd like to share your work!) and a creative writing exercise to make sure you leave the event with a new story in mind.
Weston Writer's Nights is a supportive space for budding writers of all ages and abilities to come together and learn more about the exciting, sometimes bewildering world of publishing, fiction and writing. We're passionate about good stories, connecting people and most importantly, empowering writers.
More about Teresa:
Teresa F Morgan writes contemporary romance. Her debut novel Plus One is a Lucky Number was published in August 2013 by HarperImpulse (now One More Chapter). This novel, having gone through the RNA's New Writer Scheme lead to Teresa being a contender for the Romantic Novelist Association's Joan Hessayon New Writer's Award in 2014. One Fine Day, her second novel, was published by HarperImpulse in January 2015 and her third novel, Meet Me At Wisteria Cottage was published in April 2017.
More about Fay:
Fay Keenan's latest novel The Weekender, published by Boldwood Books, was released on 28th November and was inspired by an old photograph, a lifelong love of politics, the iconic town of Glastonbury and the campaign for cystic fibrosis drugs. When Holly meets Charlie, sparks will fly! Fay's bestselling 'Little Somerby' trilogy explores the lives and loves of the residents of an idyllic Somerset village. Sprinkled with a liberal dose of cider and sauce, these novels are perfect for curling up with!
More about Jan:
Jan Ellis began writing fiction by accident in 2013 when a digital publisher approached her to write a history book, then made the mistake of mentioning 'romcom', which sounded much more fun. Since then, her books – including a traditional mystery – have been published in paperback. Her stories have small-town settings with realistic characters who range in age from young teens to eighty-somethings. Jan's background is in non-fiction publishing and she now works for part of the Booksellers' Association, supporting bookshops worldwide.
More about Jenny:
Jenny Kane is Costa's writer in residence in Tiverton, Devon and is the author of the following romantic comedies; Romancing Robin Hood (Littwitz Press, 2018), Abi's Neighbour, (HeadlineAccent, 2017), Another Glass of Champagne (HeadlineAccent, 2016), the bestselling, Abi's House (HeadlineAccent, 2015), the bestselling Another Cup of Coffee (HeadlineAccent, 2013), and its novella length sequels Another Cup of Christmas, Christmas in the Cotswolds, and Christmas at the Castle (HeadlineAccent, 2013, 14 & 15). Jenny also writes historical crime as Jennifer Ash, and has written four audio-scripts for ITV's, 'Robin of Sherwood.'