Thursday, February 25, 2021 – 7:00 PM – 8:00 PM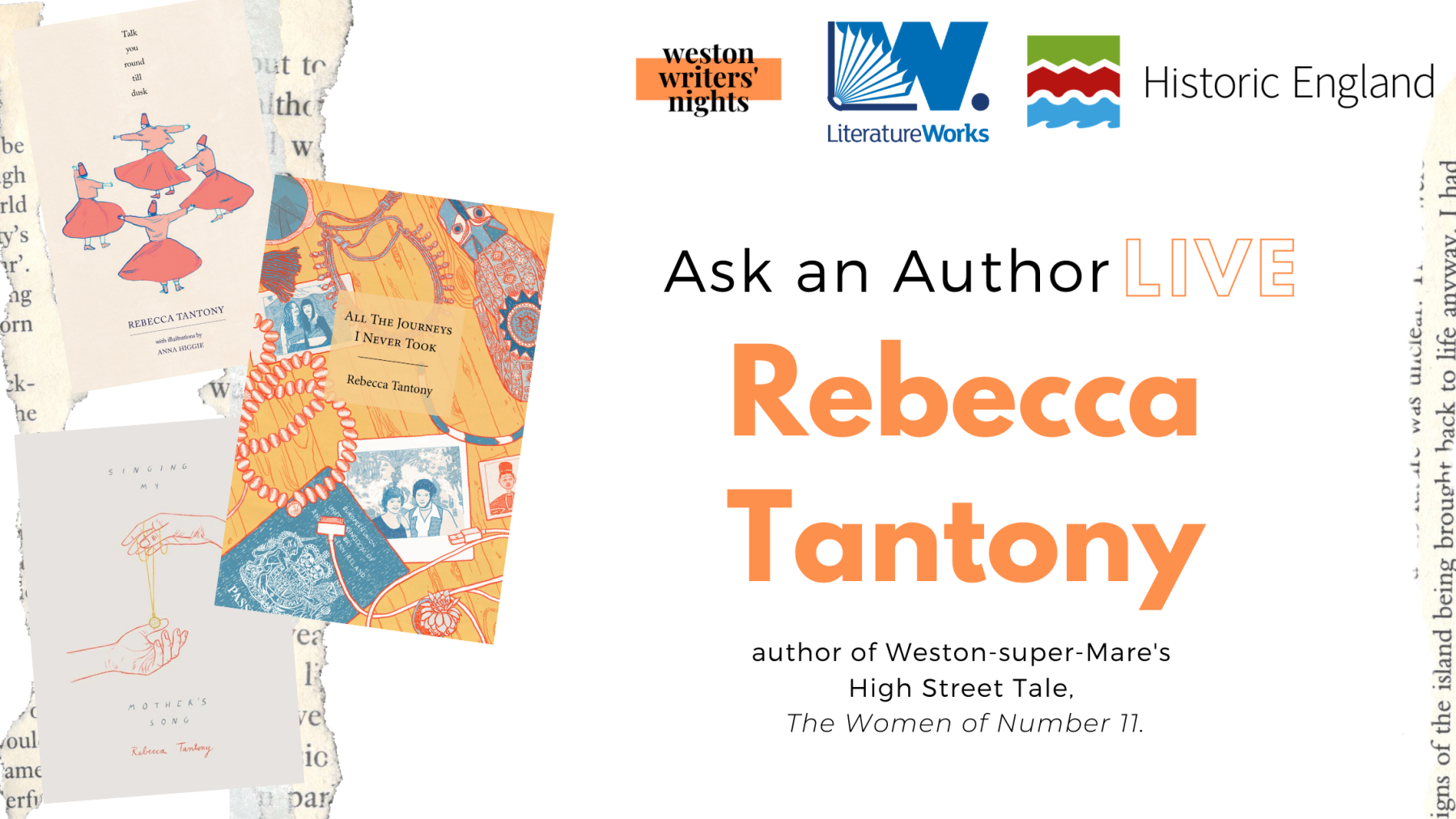 Join us for the first event of our Writing Weekender, featuring Rebecca Tantony. Rebecca is the author of Singing My Mother's Song (Burning Eye, 2019) and was selected to uncover the everyday magic that plays out on Weston's high street as part of Historic England's High Street Tales project.
We'll be talking about Rebecca's career as a writer, her writing process and her tips for budding writers. Rebecca will also be sharing her High Street Tale, The Women of Number 11. There will also be plenty of time for you to ask Rebecca any questions you have!
The Women of Number 11 spans 127 years and combines the overlapping lives of multiple characters. The story was directly inspired by the author's relationship with Weston-Super-Mare and the interviews with locals conducted before writing the piece. The interviews reflected on enjoying café culture and making use of outdoor space as an opportunity for greater connection. On the importance of tourists and opening up to strangers around intimate subjects like death. They talked about human nature, the joy of helping people find adventure and playing bingo on Everest. From stories of wig shops to distant relatives who were famous for modelling crinolines in a local department store (and keeping incredibly still whilst doing so). The interviews brought forward themes of leaving and returning. Of belonging and isolation. Reflections of gratitude, on community and togetherness.
High Street Tales is part of Historic England's High Street Heritage Action Zones project, which has appointed the seven English regional literature development agencies each to lead on exploring one high street in their region. In the South West, Literature Works selected Weston-super-Mare.
More About Weston Writers' Nights:
Weston Writers' Nights is a supportive space for budding writers of all ages and abilities to come together and learn more about the exciting, sometimes bewildering world of publishing, fiction and writing. We're passionate about good stories, connecting people and most importantly, empowering writers.
More About Literature Works:
Literature Works are the regional literature development agency for South West England, a registered charity and an Arts Council England National Portfolio organisation. Their aim is to open up the flexible literature artform of poetry and story, creative writing and reading as widely as they can to the benefit of all in the South West of England. They host a thriving online community of emerging and established writers, nurture talent and provide resources for writers in the region.
More about Rebecca:
Rebecca Tantony is a writer and facilitator driven to understand the messy and wild human experience in greater depth. She has been commissioned by Radio 4, read her work on the BBC and her writing has been described as 'Mesmerising' in the Guardian. Rebecca has appeared in numerous venues, including the Royal Albert Hall, the Natural History Museum and Southbank Centre. She has performed at music and literary festivals throughout the UK, and performances have taken her across the world. She is the author of Talk You Round Till Dusk (Burning Eye, 2015), All the Journeys I Never Took (Burning Eye, 2017) and Singing My Mother's Song (Burning Eye, 2019). She has taught Creative Writing to BA students at Bath Spa University, and in 2019 she was writer in residence at Wits University, Johannesburg. Her work has been published in Magma, Oh Comely, Ink, Sweat and Tears and Mslexia.